Summer is the most popular time for camping. It does not matter who you are camping with, friends, colleagues, or family. For families it's the best time for camping, as in summer kids are out of school, parents get to manage free time from work.
Moreover, in summer, nature is at its best, sunny and greenery can be found everywhere. Because of that, it's the best period for camping, to enjoy nature and spend time away from a hectic routine.
If you have made your mind about camping, you may be wondering what to wear when camping in the summer. Not to worry, this guide will assist you in choosing the best clothing you can have during summer camping.
What to wear camping in summer may include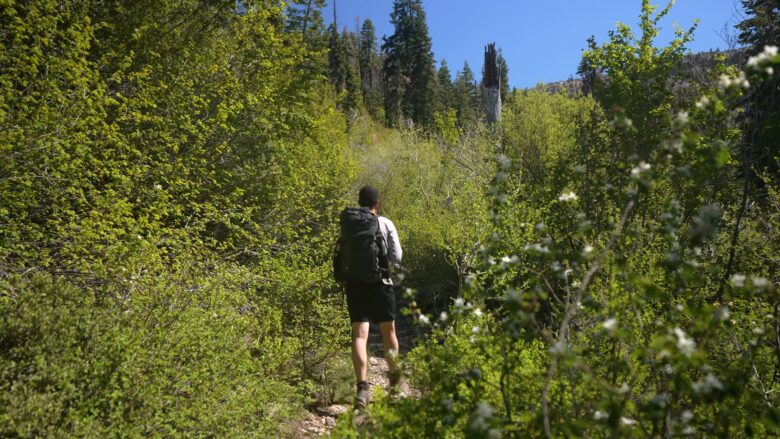 Usually, people tend to pack without considering the types of clothing you going to wear. For summer camping, the best clothing is a vital part as it can make a big impact on the enjoyment of your trip. Selecting adequate clothing for camping can be tricky as this depends on multiple factors such as
The unpredictable temperature at night and daytime
Forecast of that area where you going camping
Personal choice, whether to go for stylish clothing or a more protective one
Choosing clothes for camping can be difficult because you need to consider multiple issues. For example, you may like to wear a T-shirt to show your triceps to impress your lady fellows. While you need to hike a bit through dense bushes wearing a T-shirt would be a wrong choice, a better choice would be wearing long sleeves which protect you from receiving scratches.
Not to worry, this guide will provide you with very flexible options to choose from if you are thinking about what to wear when camping in summer. Moreover, you want to look as stylish or sober as you like; in the meantime, you will be able to cope with the conditions you are facing during camping.
Here are the pointers for what to wear when camping in the summer
These are the points you need to look at before making your mind about what to wear camping in summer:
Best fabrics of clothes for summer camping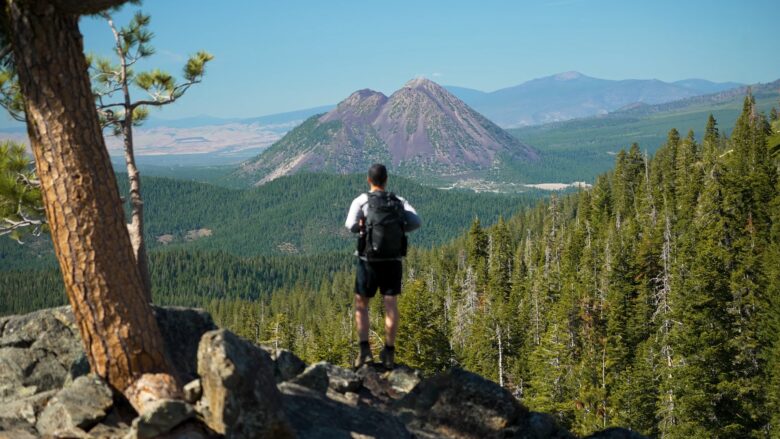 Cotton and linen are natural fabrics, and these would be a good choice for summer camping clothes. These kinds of fabrics are light and comfortable but may absorb sweat and stick with your skin.
On the other hand, nylon and polyester may let air pass through and don't stick with skin. But, may heat up and make you uncomfortable.
The best choice would be a fabric with a blend of cotton and polyester. As these blended fabrics present, let air permeate, quickly dry cloth as well as comfort. Try to buy clothes with this composition.
Colour of clothes for summer camping
Colour of clothes does matter while camping in heat. You may be camping in shades, but you need to move around under the sun somehow. Darker shades tend to absorb more heat from the sun.
So, the sensible choice would be wearing light color clothes such as white, sky blue color instead of wearing black or grey. By wearing light clothing, you will sweat less and prevent you from dehydration. Also, you can always bring a portable umbrella to give yourself a nice shade.
Top wear
What to wear when camping in summer? What to wear on top during summer camping? These are the desirable questions you are looking for an answer.
What to wear camping in summer on tops depends on the temperature of the location where you are planning to enjoy your camping trip. Usually, the most variable temperature values are observed in deserts. In the deserts, days are hot while nights are chilly.
In conclusion, you should see the weather forecast before going camping. Layering is a better option for such situations.
Layering is an excellent technique to cope with variable weathers
When camping in summer, layering is the best option to use, to stay cool in hot weather and warm in cold weather and vice Versa. Layering provides extra flexibility and lets you adapt to the temperature you are facing at the moment.
The first layer could be a tank top or Undershirt, will keep you dry and fresh. The moisture-wicking fabric would be best.
The second layer should be a shirt or T-shirt with loose-fitting, will allow air to flow, make you feel airy and cool.
The third layer could be Light fleece that might be needed in the early morning and the night (Optional), Depending on the weather condition.
As the temperature rises, you can remove each layer when needed.
NOTE: use long sleeves if you have to hike a bit, will protect from sunburn and scratches.
You can skip any of the other layers depending on your camping activities and temperature. Usually, T-shirts and tank tops are enough while camping in summer. But it's better to be prepared for a worst-case scenario.
Bottom wear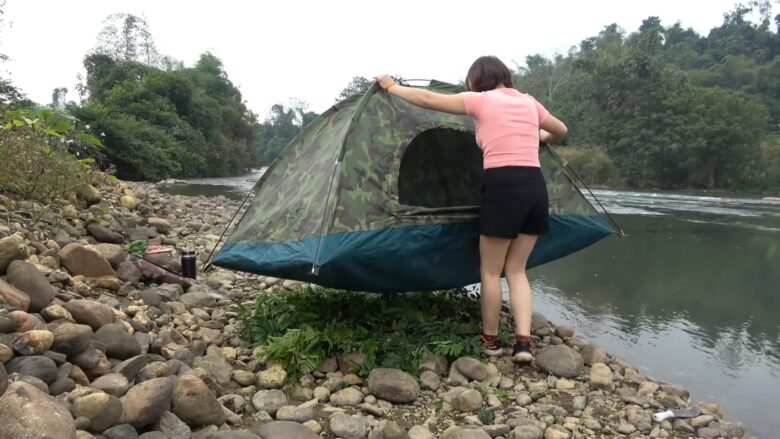 Bottom wear gives freedom from layering. These are the option you can choose from:
Shorts: Noting is more comfortable than wearing a short in summer. But will not protect against scratches or insect bites.
Cargo pants or trousers: Another option to wear during camping is cargo pants, especially when hiking is involved in your activities. Moreover, pockets can provide you with extra space.
Convertible pants: Dual use of convertible pants as can be zipped off you can make shorts.
Jeans: Jean with lose fitting can be a good option as air can flow through it
These options can give you flexibility when you wonder what to wear when camping in the summer.
Footwear
A simple rule, when you think about what to wear when camping in the summer as footwear, always go for comfort rather than choosing a fancy one.
Sneakers: Sensible option if you need to hike or long walking
Sandals: sandals with ankle strap and thin-soled could be an adequate choice if you need to walk around an uneven surface.
Flip flops: Most essential footwear for summer camping is flip flops. Flip flops can be used for multipurpose such as during a shower or when hanging around your camp.
Dry socks: should have multiple pairs of socks, socks keep your feet dry and protected.
Hats
When you think of what to wear when camping in the summer, you might not think of hats. But indeed, hats are very significant to combat sunlight. The hats not only shield your head and eyes against sunlight but also you face. If you are lucky enough to find a nice big hat, it will protect your neck and ears from sunburn as well.
A baseball cap is a good option but will not protect your ears or neck. It's up to your choice and availability; it better to have something than nothing.
It is also important to have in mind hygiene during the hot summer days at the camping site, so make sure to read our latest guide on how to wash your clothes without breaking additional sweat.
Important extra accessories needed during camping in summer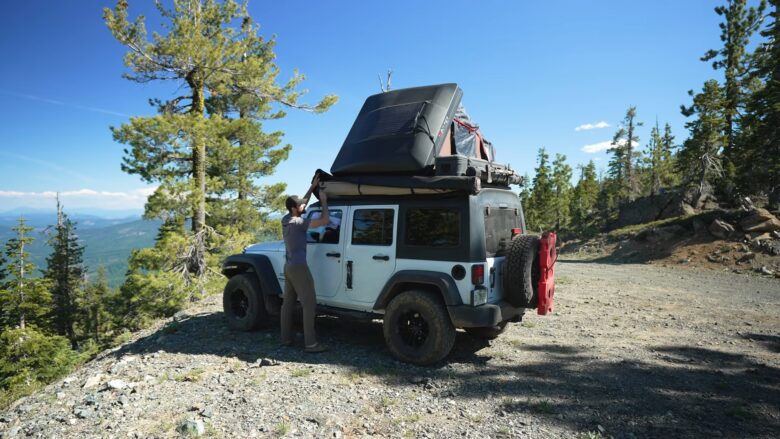 Camping is a time you comfort yourself from other worries. It's better to be prepared before camping and may require some extra accessories. So before going to ask yourself questions about what to wear camping in summer? Or what accessories should I have with me?
Here are some essential accessions for summer camping:
Sunglasses: Sunglasses protect you from sunlight and glare. If you are camping in the shadow, you don't need sunglasses. But there is direct exposure to sunlight, it's good to have sunglasses with you. Moreover, it also adds glamour to your looks.
Sunblock: During a sunny day, you may not protect your skin from sunburn with your clothes. So, sunblock can play an important part to protect your skin.
Bandana: Multipurpose item, it can be used to hold your hair as well as around neck to protect from sunlight.
Swimsuit: pack a swimsuit with you if you like swimming, which is very encouraging activity in the hot summer.
Towels: towels can be helpful. pack fast-drying towel which is lightweight as well
I hope by reading the above guide, you can find your answer to the question of what to wear when camping in the summer?
However, pro tips while deciding what to wear camping in summer. Usually, you need to pack your backpack for camping. For backpacking, you need lightweight items and fill the limited space with essential things.
So before going camping, you need to be very decisive while choosing items and clothes you want to bring with you. This guide provides all the guidance for summer camping clothing according to your suitability, weather conditions, and activities you are going to do.
References:
https://koa.com/blog/tips-for-staying-cool-on-summer-camping-trips/
https://www.pinterest.com/abigailrothanzl/summer-camping-outfits/